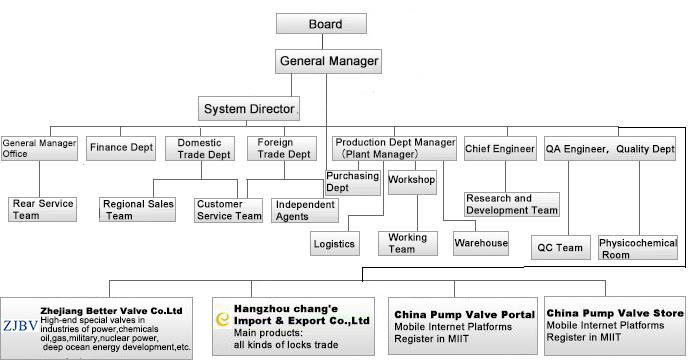 A Development of quality policy, objectives approved;
BApproving quality manual and key quality plan;
CAppointment of the management representative and configure a variety of resources, preside over the management review;
D Responsible for the establishment of various channels of communication with the customer and the enterprise;
EResponsible for the approval of the qualified supplier and procurement plans.
AResponsible for the preparation of the management system documents, approval of manage documents and external documents;
BResponsible for the preparation of the internal audit plan for the year, and the appointment of the audit team leader and internal arbitration;
CTo ensure that the process required by the quality management system is established implemented and maintained;
DReport on the performance of the quality management system and any improvements to the general manager;
Eto ensure the improvement of awareness of customer requirements in the whole factory;
FExternal liaison on matters relating to the quality management system.
AResponsible for the preparation of technical documents
BParticipate in a special contract review and evaluation of important supply-side;
CResponsible for the application of statistical techniques;
DResponsible for the planning of product realization;
EResponsible for development of corrective and preventive measures;
FResponsible for the inspection of raw materials, semi-finished products, finished products, and the control of non-conforming product
GResponsible for identity management of the inspection and test status;
HResponsible for the quality record identification, collection, cataloging, archiving,and storage;
IResponsible for the inspection and test equipment calibration and weekly inspection;
JResponsible for the technical documents drawings collection.
AAuspices of the evaluation, approval and management of the supply-side;
BResponsible for the preparation of procurement plans and inspection of purchased products;
CResponsible for the arrangement of production planning, organization and deployment of workers;
DResponsible for the maintenance of production equipment, production equipment checks; responsible for confirmation of the production process and service;
ECheck the record on special key process parameters; responsible for confirmation of the production and service process;
FResponsible for the management of raw materials, semi-finished products, and finished products, and also for fire prevention, moisture-proof, anti-theft, and ventilation of the warehouse.
GResponsible for the identification of raw materials, semi-finished products, finished products, to prevent confusion
HResponsible for the requisition and accounting of the warehouse, so that account, the card and material consistent.
ICorporate with the sales department on the factory materials and product handling, protection work,, do a good job of product identification and traceability;
AResponsible for the drafting of the management documents, system files and file distribution and other management work;
BResponsible for the formulation of the training program, organized relevant departments on staff training and assessment;
CConference record, finishing archive.
AIn accordance with the development strategy of the company in the coming year, making the company R & D planning, including products choosing and investment;
BIn accordance with the development strategy of the company, making the strategic planning in the next 3-5 years, including products choosing and investment;
C Organization and implementation of research and development planning;
DThe development of R & D specification, implementation and optimization of R & D management system;
EFormation of the company's technology platform, the assessment of investment in R & D platform;
FDepartment team building, job definition, the requirements of the job responsibilities, staff appraisal, resource scheduling;
GAssess the technical feasibility of the product research and development;
HFormulate development budget and development plan on new product and organize the implementation;
IMonitor implementation process of each R & D project;
JOrganize identification and assessment of R & D results;