Model Number: DQF
Bore:DN 12-200
Pressure:0.25MPa
Material Quality:Q235
HENT Electric Ball Valve
HENT DQF series electric ball valve is specifically designed for silo bottom rotating aeration control system, particularly in cement industry,fluidizing the power material. It is remotely PLC controlled by control center as raw meal blending silo process and storage silo bottom rotating aeration discharging process. It is hard working and is a perfect substitution for tradition solenoid ball valve and butterfly valve. Patented by State Intellectual Property Office of the PR China (SIPO), HENT electric ball valve has a share of 80% domestic market and is also well-known worldwide. It is approved and accepted by hundreds of End Users and EPCs in China and abroad, including China Resources Cement Holdings Limited, SINOMA, TCDRI, HCDRI , SUNNSY Group ,Lafarge Group , NRCC & SPCC (Saudi Arabia) ,KCCL & GCL (Pakistan) etc. They are serving in over three hundred cement plants all around the world.

DQF Electric Ball valve Technical data
1. Supply power 220VAC (Optional)
2. Control voltage 220VAC (Optional)
3. Nominal pressure 0.25Mpa
4. Switch time 0.25 Seconds
5. Operating time 1 million, quality assurance for 5 years.
6. Relay signal output.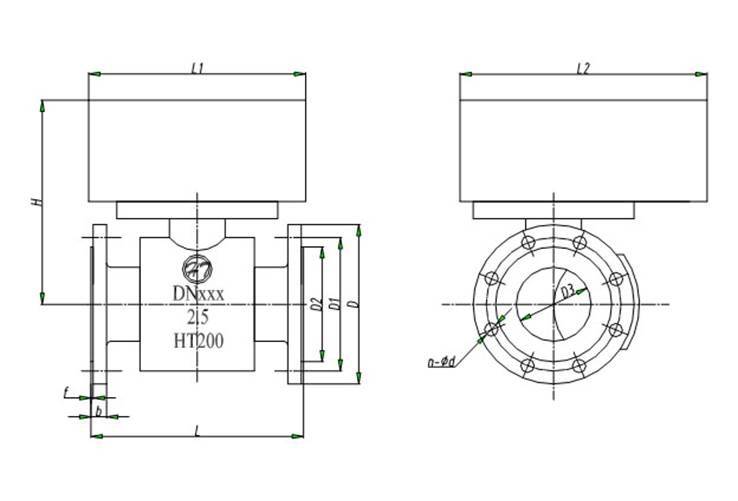 DN

D3

Main Dimensions

Weight (Kg)

L

D

D1

D2

f

b

n-φd

L1

L2

H

15

130

95

65

46

2

14

4-14

185

245

190

19

20

150

105

75

56

2

14

4-14

185

245

195

20

25

160

115

85

65

2

14

4-14

185

245

200

22.5

32

180

135

100

78

2

16

4-18

185

245

210

25

40

200

145

110

85

2

16

4-18

185

245

215

30

50

250

160

125

100

3

16

4-18

185

245

222.5

35

65

250

180

145

120

3

16

4-18

310

350

260

45

80

250

195

160

135

3

20

8-18

310

350

262.5

50

100

280

215

180

155

3

20

8-18

310

350

277.5

55

125

300

245

210

185

3

22

8-18

310

350

292.5

65

150

300

285

240

210

3

24

8-23

310

350

310

80

200

460

335

295

260

3

25

12-23

310

350

400

160